If you also have a passion for gardening or you are eager to build your own garden and you are demotivated by seeing the lack of space in your home.
Do not worry….
Here is the iDOO Wi-Fi 12 pod hydroponic system in the market to ease your problems and to make gardening easy and fun. That is why we are saying that it is destroying the traditional soil gardening culture as most people are adopting it for indoor gardening.
If you are interested in a DIY hydroponic system then do check out our 5 Gallon Hydroponic system under $100.
If we talk about how it looks?
It is beautifully designed and complements the indoors exceptionally well.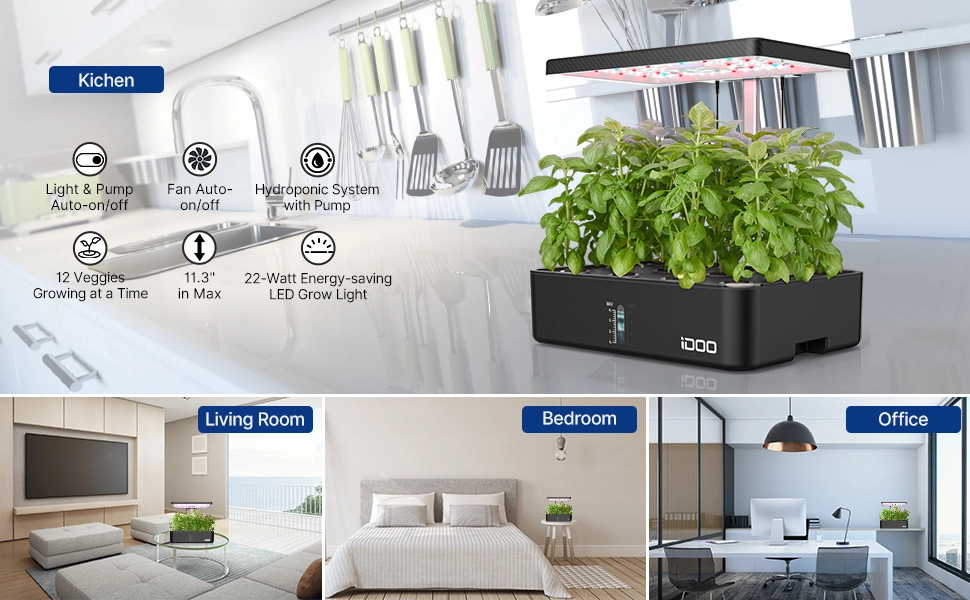 iDOO wifi hydroponic system is an indoor planting system.  There is no need for you to take your plant to the balcony or terrace for sunlight to grow plants in it. 
You can place your hydroponic system in the bedroom, kitchen, drawing room and anywhere inside the house. It will enhance the beauty of your home even more.
One more thing I should tell you
There are two types of iDOO 12 pods hydroponics growing system.
One is with Wi-Fi and with a bigger 6.5-litre tank for the nutrient solution.
The other one is without Wi-Fi and comes with a 4.5-litre nutrient reservoir tank.
Both are priced according to their features.
Types of iDOO systems
iDOO 12 pod system up to 11.3 inches expandable vertical grow light height
iDOO 10 pod system up to 18.7 inches grow light height
iDOO 20 pod system up to 27 inches adjustable height
Smart features of iDOO Wi-Fi 12 pods hydroponic system
It is easy to follow the hobby of gardening but it is not that easy to take care of plants from time to time. So, for similar problems, Wi-Fi and remotely controlled features have been given in this hydroponic garden.
With the special feature of the 12 pod system, you can adjust the run time of your indoor garden fan, light timing and water pump according to the growth of your plant.
Garden Fan
Lights
Nutrient Pump
Automatic Timer
Keep a diary for your plants. You can also make necessary notes for your plants in a digital way.
These features are beneficial for those people who get busy with their daily work and take more time in their office.
Also Read "Aero Garden – The Best Automatic Indoor Hydroponic Garden"
Steps to pair your smartphone
All you need to do is install the "Gennec" app on your phone and pair your system using Wi-Fi and then control your hydroponic system with the "Gennec" app. (compatible only with 2.4 GHz networks)
Once connected you can control wifi smart features from any distance through your smartphone.
Don't worry about watering the plants everyday
Yes, if you think that you have to face the hassle of watering the plants every day, then it is not so.
12 pod systems have a large 6.5L water tank that makes you worry-free for 2 to 3 weeks.
So how do we know about the lack of water?
Whenever the water in your tank is less than 1L or there is a water shortage, its smart feature will give you the indication through the light of your system and you will also be notified on the app as the colour changes from blue to orange.
This will remind you to water the plants. Another special feature of this system is its super silent water pump. It greatly reduced the pumping sound so you can easily place it indoors.
Special Grow Light feature for various plants
22-Watt full spectrum LED grow light of the hydroponic growing system has 2 types of planting modes. 
1- Vegetable mode
2- Flowers and fruits mode 
Along with this, there is also an automatic lighting feature that gives the plant as much light as the plant needs from time to time.
The light intensity and the height of the light can also be adjusted according to the height of the plant. (Max. 14.5 inches)
Also Read "Best LED Grow Lights for Indoor Hydroponic Garden"
What does the top fan do?
Whether you're growing flowers or vegetables in your iDOO WiFi system, the fan helps to dissipate the heat at the time of plant germination and increase the pollen process in flower production.
And the super low noise feature of this fan greatly reduces the noise of the fan while sleeping at night.
What comes with an iDOO hydroponic growing system?
iDOO wifi comes with the following things :
•24 pcs sponges
•12 pcs basket
•12 pcs tags
•6 pcs cactus cover
•12 pcs basket labels
•1 pcs rubber stopper
•Plant food (nutrition food)
Also Read ""
Also Read "DIY Mason Jar Hydroponics with Kratky Method – Cheap and Easy "
What can we grow in iDOO 12 pod Wi-Fi system?
There are many vegetables, herbs and flowers that can be easily grown in idoo hydroponics. Some plants as examples which are mentioned below-
Vegetables
Tomatoes
Lettuces
Kale
Radishes
Spinaches
Beans
Fruits
Flowers
Hoya
Snapdragons
Rex Begonias
Orchid
Peace Lilies
Does iDOO Wi-Fi 12 pods hydroponic growing system come with seeds?
No, the iDOO wifi 12 pods hydroponic growing system does not come with seeds.  You will get the seeds easily in the market at a low price.
Note: Good quality seeds are a must if you want great yield. Hence we recommend getting Non-GMO Heirloom Seeds only.
In how many colors is iDOO Wi-Fi 12 pods available?
You have two options in terms of colours:
1. Black
2. White
Both are attractive in appearance.
Benefits of iDOO Growing System
No Soil, No pests
LED Grow lights for faster and better yields
Zero wastage and mess
Automatic watering and lighting
Get fresh fruits and veggies indoors
Harvest yield throughout the year
Hope this short article answers some of your queries regarding iDOO 12 pods hydroponic system. If there are more queries feel free to comment and we will help you asap!
Take Care!