The below given top 10 fans are in our top 10 list based on their high rating, demand and their affordable price. The purpose of placing them on this list is based on their use for the grow tent.
I have divided this list into 2 parts. The first 5 fans are oscillating clip fans, which means you can easily clip them anywhere and they are super portable. The last 5 fans are inline fans, which means they are fitted within a duct which takes out all the heat from the grow tent.
Best Oscillating clip Fans for Grow Tent
1. Hurricane Classic 6-Inch Clip Fan
First of all, if we talk about its design, then the Hurricane Classic has been made to meet the lack of air in any place. The Hurricane Classic is a lightweight and portable fan. The fan height is 6 inches and comes with a clip that easily mounts wherever you want.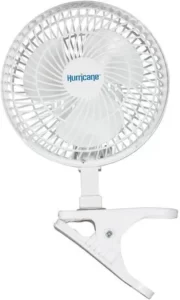 The clip opens up to 2 inches, allowing you to easily set it anywhere in your grow tent without worrying about the footprint and it's easy to assemble as well.
Hurricane classic speed – The powerful motor with extremely low noise allows it to operate on two-speed modes of airflow, 306 rpm and 2350 rpm on high.
Quick adjustable fan direction – Adjustable tilt mechanism can easily change the direct and indirect airflow.
Durability – Its metal grill and steel neck make it even more sturdy and it has a 5-foot 120-volt power cord to enhance its capabilities. If we talk about its price, then don't worry, it will definitely sit in your budget. This fan is value for money. Its price is cheap according to its features.
2. Honyin 6-Inch Clip on Fan
 This fan is lightweight as well as has a 3-in-1 design.  You can clip it anywhere with its clip.  You can hang it anywhere with the help of the hook attached to it and its clip works 2 in 1. It converts its clip into a stand as needed. It is the best choice for a grow tent.
It has three colour options: White, Blue and Black.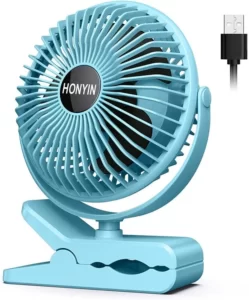 Honyin's 3-speed modes
You will get 3-speed mode in this fan.
★ Speed 1 – 2400 RPM
★Speed 2 – 3200 RPM
★Speed 3 – 4000 RPM
It has an advanced brushless motor with a faster-operating speed.
It is 25% quieter than other fans If your old fan didn't blow air far away then trust me this fan from Honyin will not disappoint you at all.  If your grow tent is big then definitely try this fan.
360° Vertical and horizontal Adjustment
High Rotational capability of Honyin 6 inches you can adjust the direction of the fan up to 360 degrees vertically or horizontally as per your wish.
USB-enabled Power Supply
If you set it up in a grow tent, you can supply power to your fan with any adapter, wall charger or power bank. USB fans are energy-saving and environmentally friendly.
Price and warranty
You will get it with 24 month warranty.  Its price will not stress your pocket at all. You can check its latest price on Amazon.
Also Read "Ideal Temperature and Humidity for Grow Tent"
3. Comfort Zone 6 Inch Clip on Fan
The comfort zone itself is the best quality product. It is portable, lightweight, easy to assemble and easy to use. Comfort Zone 6-inch tested to exceed UL, ETL, SAA, CE and other global marks for quality.
Strong Grip Clamp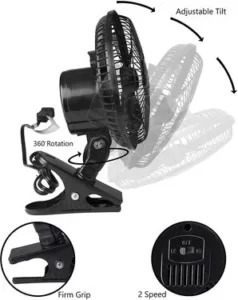 No matter where you set it.  It clips anywhere easily, and the clip in it opens easily.  Its clip opens up to 2 inches without high pressure and its clip comes with a rubber grip that provides a firm grip without scratching the surface. It will easily mount anywhere in your grow tent.
Quiet Fan and 2-speed mode
In this fan, you get a 5.5 feet long cord and steel safety cord. (2-speed control located on the back of the fan). It has a 2-speed mode with a very quiet sound. You can adjust the airflow speed to high or low to suit your environment and it also reduces the humidity level.
Adjustable Head
With adjustable tilt and 360-degree right and left rotation, you can adjust the airflow of this fan. You can set the airflow by aiming your plants at your grow tent.
4. Heal Smart 6-Inch Grow Tent Pole Clip Fan
If we talk about the Heal Smart 6-inch, you can mount it anywhere without any footprint. It is lightweight, portable, and Easy to assemble and the height of this fan is 6 inches.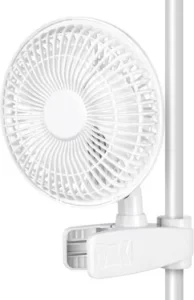 2-speed mode and Powerful Fan
Its powerful motor gives fast airflow with low noise.  Its maximum wind speed is 10.5 ft/s and in this, you get 2-speed modes. High and Low. Powered by a USB Power source. (Cord length 63 inches)
Clip and Rotation
Its clip opens up to 2 inches and can easily create a grip on any surface. Vertical and horizontal rotation can be adjusted up to 90 degrees.  You can set the airflow of your fan wherever you want. This is a cheap and high-quality fan.  For the latest price of this fan, you have to visit Amazon.
Also Read "Top 10 LED Grow Light for 2022"
5. AMACOOL 10000 mAh 7 Inch Battery Operated Fan
If you are looking for a rechargeable fan for your grow tent then you can depend on the AMACOOL Rechargeable Fan in your budget. Its 10000 mAh battery can keep the fan running continuously for 2 days on low speed. This rechargeable fan is lightweight, portable and easy to use. It has a smart LED light indicator that will indicate to the battery how much battery is left in your fan.
The world's first battery-operated personal fan with a timer.
The auto shut-off timer feature of this fan does power saving.  If you use it in a grow tent, then it is very beneficial for you. You can set the timer on 1 hour/4hour as per your wish and need.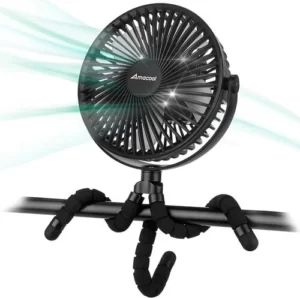 360° Angled with Tripod
You can convert this fan tripod into a stand.  You can hang it with a tripod on the pole of the grow tent house, and you can adjust the adjustable tilt to set the airflow at any angle you want.
3 Speed mode and Power
In this fan, you will get 3-speed modes Low, Medium and High. It has five fan blades.  The size of the fan is 7 inches, due to which it gives extremely strong air.
LED Lights
In this fan, you will get 12 LED lights which provide bright light.  Also, you can set the LED light in three modes according to your need.
Price – This fan is one of the most affordable and highly rated among rechargeable fans.
Best Inline Duct Fans for Grow Tent
1. Hydrofarm Active Air 6″ Inline Fan
Hydrofarm is one of the old trusted companies, Hydrofarm Active 6″ Inline fan is always in demand for Grow Tents.
Durable Construction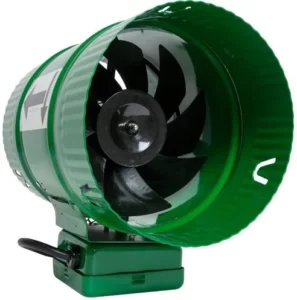 Active Air Inline duct fans are thermally protected Ac motors sealed for life bearings even though they do not require lubrication. Its ceramic-coated metal housing makes it strong and durable. 
Features of Hydrofarm Active 6″ Air Fans
The low sound output does not bother you with its sound in any way. Plus the mounting bracket and 8-foot pre-wired 120v cord keep you out of trouble with the power supply.
– High quality Molded Impeller
– UL Recognized Components
Hydrofarm Active Air 6″ Inline Fan is a great innovation at a reasonable price for grow tents.
2. AC Infinity Cloudline S6
Its design is completely based on the ventilation of the grow tent. It transfers heat/cooling to your hydroponic grow tent. It circulates air, exhausts and cools the AV rack. Very easy to install and lightweight. (Carbon filter not included)
8 Speed Mode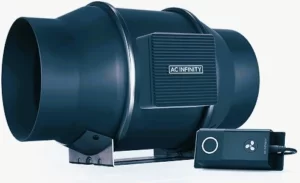 AC Infinity Cloudline S6 has an 8-speed mode with a power switch controlled by PWM (Pulse Width Modulation)with the feature of this excellent speed mode, you can set the  speed according to your plant (Airflow: 402 CFM)
EC – Powered Motor
EC – Powered motors are highly efficient and pay for themselves through lower operating costs and extended service life. Its motor is very quiet and does not disturb in any way in the house.
Items included in the Kit – This kit includes all necessary mounting hardware, corded AC power adapter and installation manual.
3. Vivosun 8 Inch Inline fan
If you do Indoor Gardening then it is difficult to say that you are not familiar with the Vivosun Brand.
Powerful Blower
Vivosun 8 Inch Inline fan is energy efficient.  Its fan speed is 2450 RPM which creates 720 CFM of airflow.  Whether your grow tent is big or small, you will not feel any kind of disappointment in the growth of your hydroponic garden due to its speed.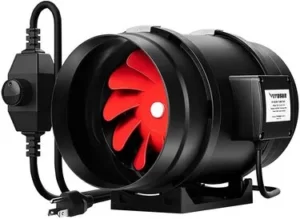 It is perfect for connecting with a carbon filter to circulate purified air in a grow tent/grow room.
Vivosun 8″ Inline Fan with a sound of 38 dB won't let you down with any kind of voice disturbance.
Speed Controller 
You can adjust the 2450 rpm speed to your own accord. A step-less speed controller on the power cord enables the fan to run at different speeds.
Installation
Vivosun 8″ Inline duct fan is lightweight and easy to install. You can easily install it in any area with less space. Comes with an installation bracket indicating the direction of airflow, and removable duct ends with locking tabs for quick removal and easy maintenance.
Duct size 8 inch
Also Read, "How to Grow Hydroponic Lettuce at Home"
4. iPower 10 Inch Inline Fan
You can guess its power by its size. Its durable ceramic coating can resist atmospheric corrosion from humidity, which is its best feature. It has a permanently lubricated bearing that requires zero maintenance.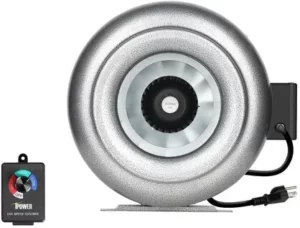 Tight and precise construction reduces wear and tear to give the element a long life. It removes heat from the system to solve air delivery problems without major system rework or expense. If your grow tent is big then this long-life fan is perfect for your plant.
Installation
Easy to Install You can install it in a few minutes.
Specifications: 
Size -10 Inch
Airflow – 862 CFM
Speed  – 2390 RPM
Wattage -174 W
Noise Level – 70 dB
-110v standard household plug 
-Pre-wired 5 Feet power cord
5. Layond 6″ Inline Duct fan for Grow tent Ventilation
It has a super quality DC, centrifugal fan and runs smoothly without any rattling and buzzing noises. Its power and efficiency is better for the grow tent in every way.
Working with an AC 110V – DC 24V adaptor, much safer than direct AC 110V fans. The fan is efficient and consumes only 50W for an output airflow of 400 CFM. It has a 7 ft power cord adaptor.
Smooth Variable Speed Controllable
Accurately control air flow speed of Layond 6″ inline fan with high-quality variable speed controller. It can realize 0-100% smoothly adjustable.
High-Performance Carbon Filter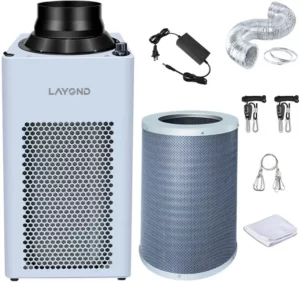 The carbon filter inside it is made from 1050+ Virgin Australia Charcoal. The outside and inside the mesh of the filter are diamond-shaped. It increases the air charcoal contact area and enhances the scrubbing ability even more.
3 Years Warranty
Layond 6″ Inline duct fans offer 3 years warranty officially under the condition of proper use.  The accessories such as the carbon filter, adaptor, and speed controller are not covered by the warranty.
Installation
You only need to clamp the ducting to the flange and hang the unit casually or simply place it standing on the floor.
Package Includes:
1pcs LYD-VS6 
2pcs stainless hanging strings
2pcs height adjustable ratchets
1pcs AC110V to DC24V transformer
1pcs 6"x 10 ft flexible double layers Aluminum foil duct
Including the User Manual.