Have you heard of AeroGardens before? Well if not, then you should. If you are someone who is interested in Hydroponics, Aero Gardens is one such technology that is completely changing how hydroponics is done. Also, you will get to see why I am calling them a miracle.
I mean just look at the functionalities they give you. I think with the oncoming of AeroGardens, hydroponics is taking a leap into the future. A future, where you will not have to worry if the nutrient level is okay, or if the lights are at a perfect height because you will be getting all that information on your mobile phone through a simplified application. 
Yeah, this is the magic of AeroGarden. Creating hydroponics simpler. For some of them, you can even connect it with your Alexa device! How cool is that!
---
Best Deals on Aerogarden on Amazon Prime Day
Amazon is giving huge discounts on hydroponic gardening products in this prime day sale. I have listed few of the Aerogardens that will be on sale for up to 50% discount. If you are looking to have one, then this is the perfect time to buy. Amazon Prime Day Sale is from July 11 to July 13. If you are reading this later, then I have updated the links with the best possible discounts.
Aerogarden Harvest at 50% Off – Best Deal on AeroGarden Harvest
---
In this article, we will be covering everything about AeroGardens and I will be sharing a few recommendations that you could try for your indoor automated hydroponics garden. 
Disclosure: Some of the links below are affiliate links, meaning at no extra cost to you, I will earn a commission if you click through and make a purchase.
What is an AeroGarden?
An AeroGarden is a compact apparatus/system in which you can grow herbs, greens, and some fruit plants hydroponically. The system is designed to make the process simple. Everything required to kickstart your indoor garden is packed in a kit.
Generally, an Aero garden comes with seed pods, nutrients which they call plant food, attached grow lights, and an LCD display counting days planted and a nutrient timer. Few advanced ones also measure the pH and EC of the solution. pH management is essential to hydroponics and Aerogarden systems take care of that by keeping a check on that.
So, as we already know, hydroponics is the technique of growing plants without soil. Hence, AeroGarden leverages that technique and it provides five times more yield than a traditional field garden would provide. Also, it is compact and looks beautiful.
The best part is that an AeroGarden can be connected to your mobile device with WiFi and you can keep a real-time track of your indoor hydroponics garden. It can even update you while you are away from your home. 
Mainly AeroGraden systems are divided into 4 major families which differ according to the number of plants you can grow and the power of the grow light. 
Here is a quick overview of all 4 types. We will get into details of each one in another article. 
| | | | | | |
| --- | --- | --- | --- | --- | --- |
| AeroGarden Type | No. of Plants | Vertical Growing Space (inches) | Grow Light Output (Watts) | Seed Starting Tray | Check Price on Amazon |
| Sprout | 3 | 10 | 10 | 15 | Link |
| Harvest | 6 | 12 | 20 | 23 | Link |
| Bounty | 9 | 24 | 30-50 | 50 | Link |
| Farm | 12-24 | 24-36 | 60 | 85 | Link |
Feature comparison of AeroGarden families
AeroGarden Sprout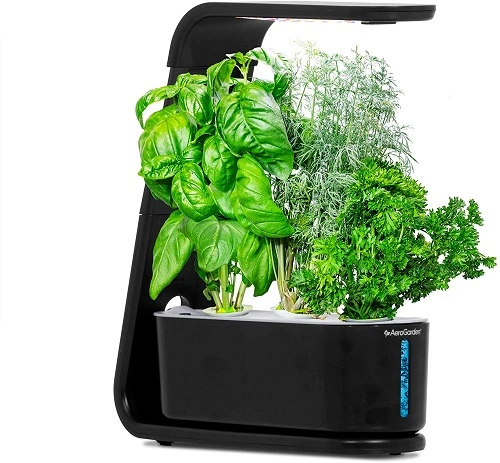 Features
No of Plants – 3
Vertical Growing Space – 10 inches
Grow Light Output – 10 Watts
Seed Starting Kit – 15 Seeds
This one is for beginners or people who like fresh herbs on their freshly cooked food. The AeroGarden Sprout is mostly used to grow herbs like basil, parsley, dill, etc. As the growing height is 10 inches, regular pruning is required to sustain the plant growth for the full life cycle.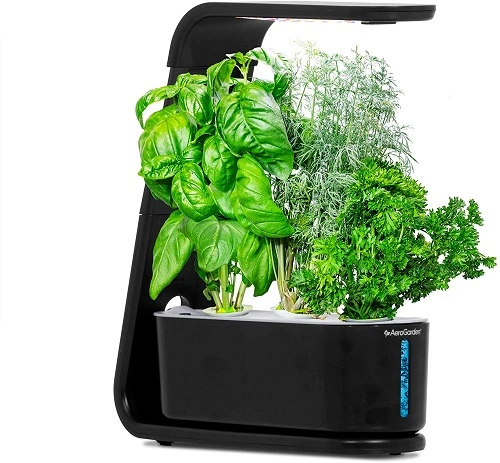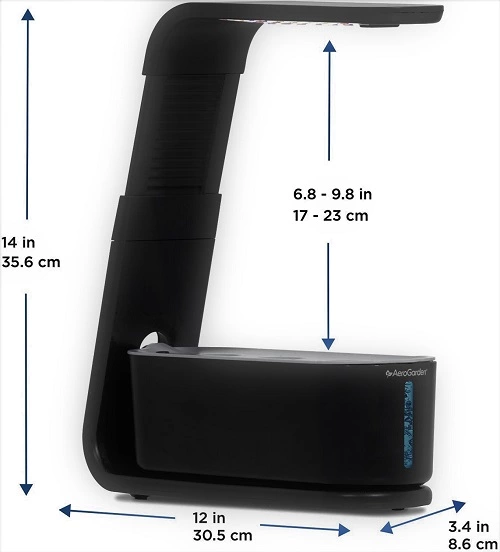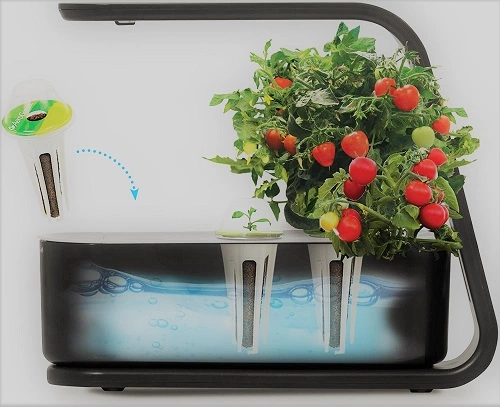 The seed starting kit is also provided with the kit and you can start 15 seeds together. This is a great tool for anyone who wants to start seeds and then transplant them in their backyard or another place. 
AeroGarden Harvest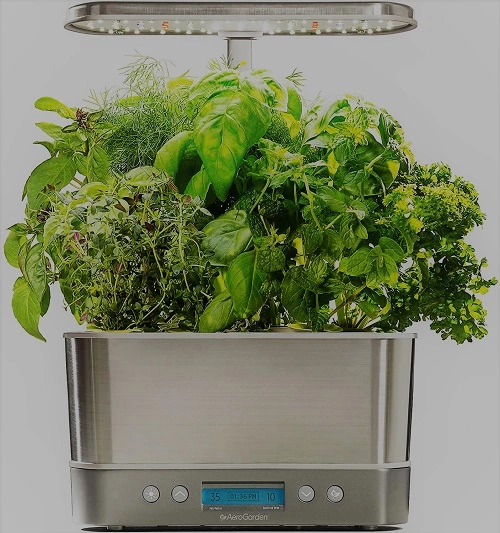 Features
No of Plants – 6
Vertical Growing Space – 12 inches
Grow Light Output – 20 W
Seed Starting Kit – 23 Seeds
Harvest is for people who want to have some greens along with herbs. With a capacity of 6 plants to be growing at once, you can easily plant some lettuce, spinach, bok choy etc. Greens do not grow vertically as much as they grow horizontally.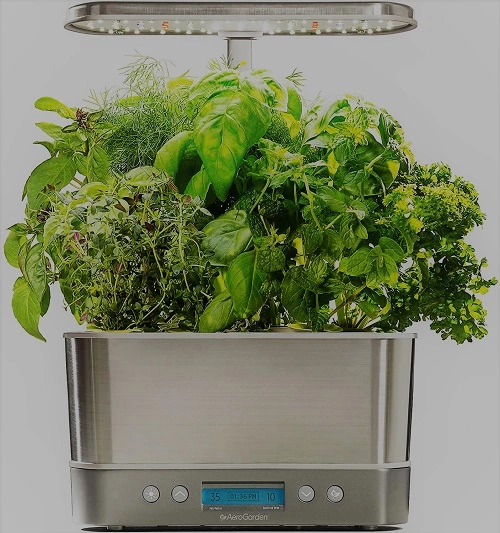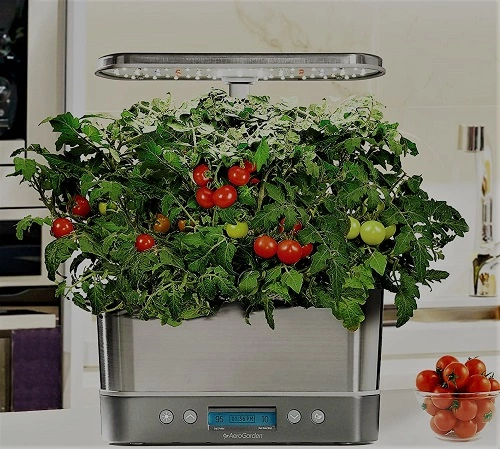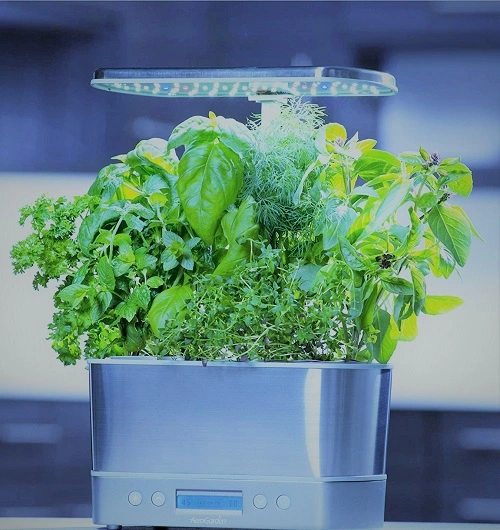 So again to keep up with the growth regular pruning is required. AerGardens can also be a perfect gift for indoor gardeners. 
The seed tray with this one is a bit larger. 23 seeds could be started at once which is great for people with extra pots or outdoor gardens to grow some mint or basil there as well. 
Also, Read "DIY 5-Gallon Bucket Hydroponic System on a Budget"
AeroGarden Bounty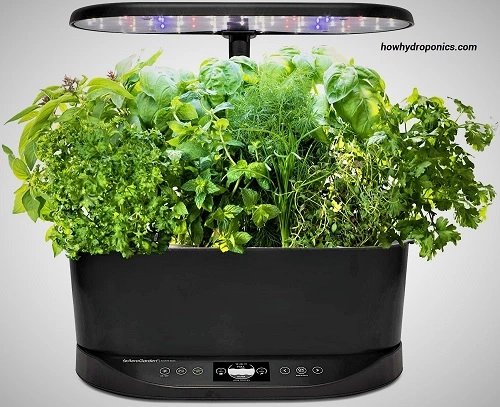 Features
No of Plants – 9
Vertical Growing Space – 24 inches
Grow Light Output – 30-50 W
Seed Starting Kit – 50 Seeds
Bounty is something more serious. You are able to grow 9 plants at once and get a vertical growing space of 24 inches. If you are someone who loves to have flowers and fruits in their kitchen or in the living area then the Bounty is for you.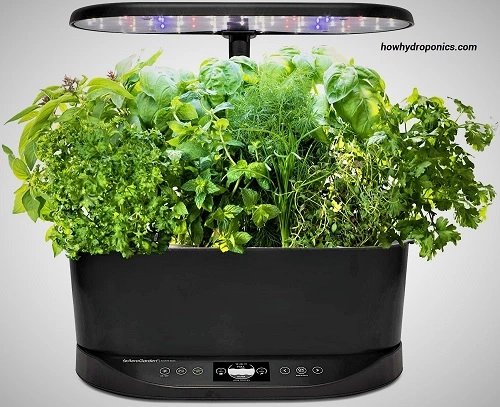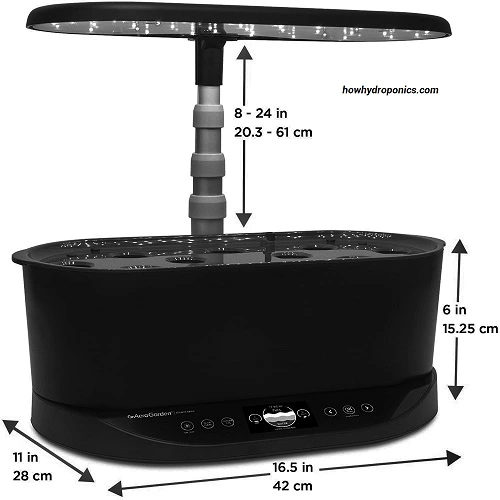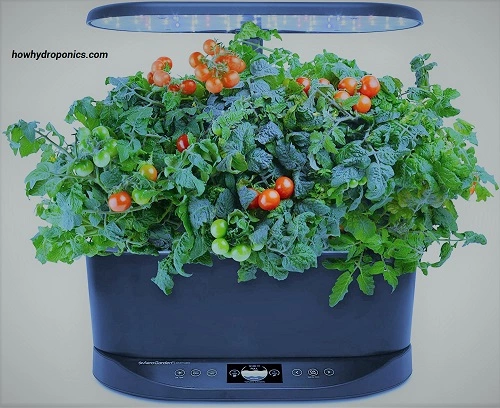 You can grow flowering plants like tomatoes and peppers with bounty. It also comes with a vacation mode where it automatically adjusts the grow light and other settings for optimum growth. 
There are different models available in the AeroGarden Bounty itself with different grow light capacity and spacing options. 
AeroGarden Farm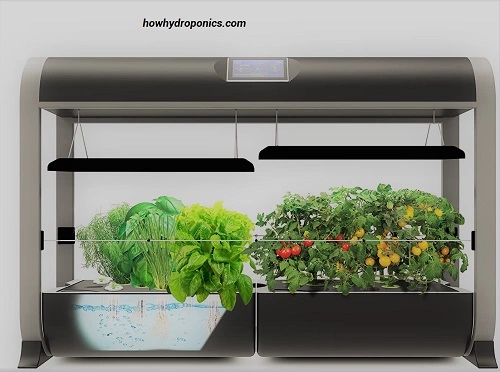 Features
No of Plants – 12-24
Vertical Growing Space – 24 – 36 inches
Grow Light Output – 60 Watts
Seed Starting Kit – 85 Seeds
The farm is used for intensive gardening. You can grow up to 24 plants at once. It has multiple models as per the needs of the individual. The 12s has a 12 seed pod capacity with 60 W grow light. The Farm 24 Plus has double the growth capacity of 12s. 
There are multiple options to choose from in the farm category. This one is essentially useful in growing tomatoes, lettuce, spinach, basils, and other herbs throughout the year and all at once.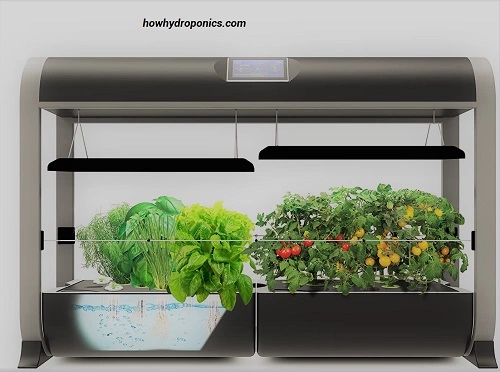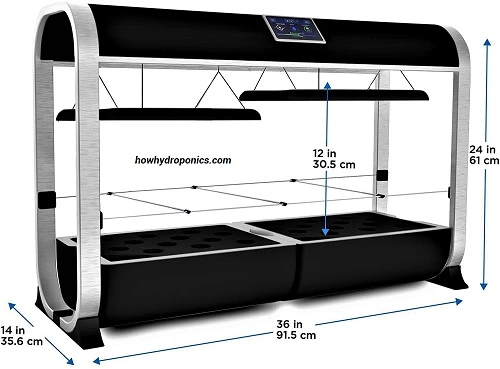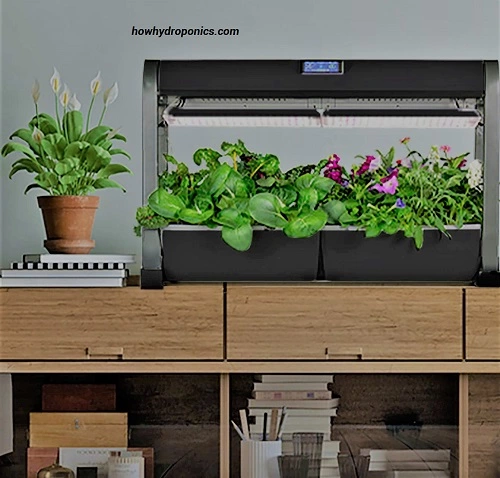 The Farm can actually provide with a yield to feed a family of 4, hahaha just kidding but yes it can provide a massive yield of herbs and greens easily. 
The seed starting tray given with the Farm can start 85 seeds at once. In the 24 Plus kit, you get two seed starter kits which give you the power to start 170 seeds at once, so that there is no stopping to your hydroponic indoor garden. 
How fast AeroGarden actually is?
Talking about the seed germination first. Seed pods are provided initially with every package. You have to just place them on the seed tray and put the plant food(nutrients) in and turn on the grow lights. 
The time taken to sprout depends on the type of seed that you are germinating. Here is a table to give you an idea of how much is required for germinating and harvesting along with the full life cycle of a hydroponic plant.
| | | | |
| --- | --- | --- | --- |
| | Germination Time | Harvest Time | Full Life Cycle |
| Herbs | 7-14 days | 3 weeks (approx) | 3-4 months |
| Lettuce (Greens) | 6-8 days | 3 weeks | 2-3 months |
| Flowering Plants | 8-12 days | 6 weeks (approx) | 3-4 months |
| Fruiting Plants | 7-12 days | 12-15 weeks | 9 months |
Average germination and harvesting in AeroGardens
Also Read, "8 Best Indoor Grow Lights for Hydroponics"
How does it work?
The system has a water bowl that carries the hydroponic nutrients and then there are seed pods, specially created for your AeroGarden, you have to insert those seedpods into the seed tray and switch on the lights. 
After that, once the germination happens, you can add more nutrients and adjust the intensity of your grow light accordingly. 
You may wonder if the height of the AeroGarden system is enough to support plants like tomatoes and peppers which grow up to 3-4 ft tall. So the answer is yes they are flexible enough to adjust for short and medium plants but it also requires continuous pruning. 
So most of the plants that you grow with seed pods will come under the short, medium, and tall range. 
Here is a list for your reference. This list is taken from AeroGarden official website. These seeds are available as seed pods as well.
Herbs Height
Tall: Dill, Holy Basil, Genovese Basil, Marseille Basil, Napolitano Basil, Lemon Basil, Lime Basil, Savory. Medium: Sage, Rosemary, Chives, Cilantro, Chamomile, Purple Basil, Thai Basil, Italian Parsley, Lavender, Mint, Mitsuba. Short: Marjoram, Oregano, Thyme, Globe Basil, Curly Parsley, Lemon Mint, Lemon Balm, Chervil
Flowers Height
Tall: Celosia, Coleus, Zinnia, Stock, Medium: Snapdragon, Coreopsis, Dianthus, Lavender, Marigold, Polka Dot (Hypoestes), Petunia (Cascading), Petunia (Mini, Pink), Gypsophila Short: Gazania, Calendula
Salad Greens ex. Spinach, Lettuce, Bok Choy etc are all medium in height.
Veggies – Mighty Mini Tomatoes – 5-6 inches, Red Heirloom Tomatoes, Golden Harvest Tomatoes, Jalapenos, Thai Pepper, and Purple Super Hots other than Sprout anyone can be used to grow these.
Tall Garden Kits – AeroGarden
They require more than 24 inches of vertical growing height to give optimum yield.
Sweet Bell Peppers
Mega Cherry Tomatoes
Anaheim Peppers
Cayenne Peppers
Poblano Peppers
Banana Peppers
Shishito Peppers
Jumbo Veggies
Fairy Tale Eggplant
Fajita Peppers
Advantages of AeroGarden
Easy to use and maintain
Great for indoor hydroponic gardeners
Automated lighting controls 
Track your garden with an app
Organic fruits and veggies indoors
Full life-cycle management
Disadvantages
Requires basic tech know-how
Seed pods not easily available
Grow light may develop problems with time
Supply required for Aero Gardens
When you first purchase your AeroGarden kit, it comes with a few seed pods and nutrients. But as you continue growing those plants and reach the end of the life cycle, you have to re-purchase them from AeroGarden itself. 
You can also choose to use normal seeds and grow media, but that requires a little extra knowledge on nutrients and growing media. Which is easily available here on our website, just search for these terms and you will get detailed articles explaining each and everything. 
AeroGarden Plant Food
The AeroGarden plant food is basically a mix of nutrients required for the growth of the plants. Based on the plant type the nutrients can have varying concentrations of nitrogen, phosphorous, and potassium etc. 
According to the company, they cannot reveal the concentration details as it is their patented formula and works best with the seed pods that they provide. 
The plant food and seed pods generally come in a combination. For ex. Gourmet Herbs 9 pods pack etc.
AeroGarden Seed Pods
Seed pods are basically seeds inside the grow media. These pods have been designed by the company as well and they test each pod for maximum growth and yield. Also, they claim that the seeds are Non-GMO (Genetically modified organisms) which means you can grow your own organic salad at home. 
They also give a 100% germination guarantee for their seed pods. If not they will replace it for free. Also considering the cost of normal seeds and grow media, the seed pods are a little expensive. 
Here is a video of the unboxing of AeroGarden Farm 24xl that I think you will find helpful.
Resources: