Indoor hydroponic gardening is becoming very popular nowadays. With the help of a controlled environment made with indoor grow lights and hydroponic systems, people are planting basils, lettuce, and other kinds of herbs inside their homes. Some make their own kitchen garden with tomatoes and spinach too. 
In the era of urbanisation where living space is becoming cramped up, indoor hydroponic gardening is a great solution for those who want to grow their own organic vegetables and fruits. The best thing is that you don't have to deal with soil that keeps your indoor setting clean and fresh. 
I have made a list of the best grow lights for indoor plants that you should check if you want to plant hydroponics indoors. These are small light fixtures that you can easily install inside your home hydroponic setup. 
Disclosure: Some of the links below are affiliate links, meaning at no extra cost to you, I will earn a commission if you click through and make a purchase.
1- GHodec 4-Head Grow Light with Stand, Indoor Plants
The GHodec is a four-head led indoor grow light giving a power output of 80 watts. This LED lamp provides a flowering pink spectrum that ranges from 5000k to 6000K which makes it perfect for rapid flowering or maintaining a plant in the vegetative stage.
For example, if you plant basil and want to continuously grow basil in a small hydroponic setup with just one or two pots then you can use this. 
Each head of the light has 16 white colours LED diodes and 4 Red colour diodes which gives it a perfect balance to be used for both vegetative and growth phases of hydroponics. It comes with 3 timing options which you can set at 4H, 8H, and 12 H along with auto on/off switch. A dimmer knob is also present with 5 dimming levels for brightness.
As it is small lighting equipment there is no external heat sink. The frame of the light is made from steel and aluminium but it doesn't work that effectively to reduce the heat. The frame gets hot when used for longer hours. This makes me come to the next point, that is you need to place the bulb at a height of at least 10-15 inches from the plant. 
In conclusion, the GHodec 4-Head Grow light is ideal for people who want an indoor grow light for flowering plants or maintaining the vegetative stage for continuous growth.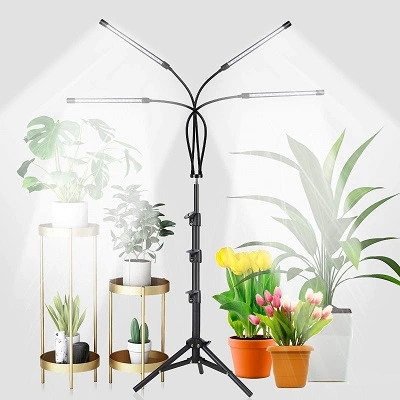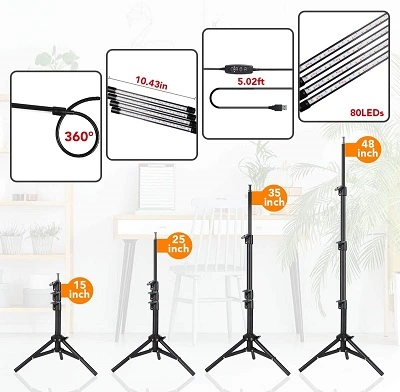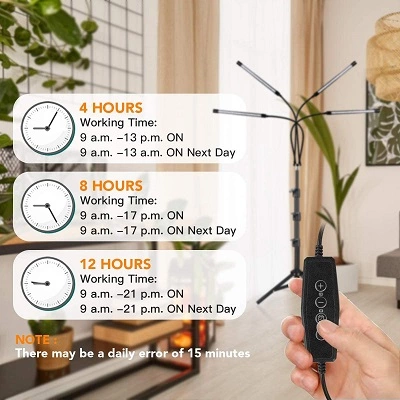 Also, Read "21 Best Hydroponic Gardening Gift Ideas for this Holiday Season"
2- G8LED 90 Watt LED Red G8 Flower Booster
As the name suggests, the G8 LED bulb is one hell of a flower booster. The LED lights inside this bulb are primarily calibrated for a strong red spectrum and provide light in the range of 630-660nm. The power it takes to run is about 90 watts and can run on voltages as low as 110 V and as high as 240 V. 
This one comes with a lifespan of 50000 hours and 2 years manufacturer warranty. As the light is used extensively for boosting indoor hydroponic plants in the flowering stage, there is a provision of 3 internal cooling fans to keep off the heat from the plant. Otherwise, the heat dissipated from the light sometimes burns the tip of the leaves. 
This light comes with a power cable suitable for the US, UK, EU, and AU. The manufacturer recommends keeping the light at a distance of at least 12 inches from the plants bottom. 
All in all, the G8 indoor LED grow light is best suited for flowering indoor plants. This light can be used in combination with HID lamps and LED grow lights to boost flowering and increase the yield of your indoor hydroponic garden.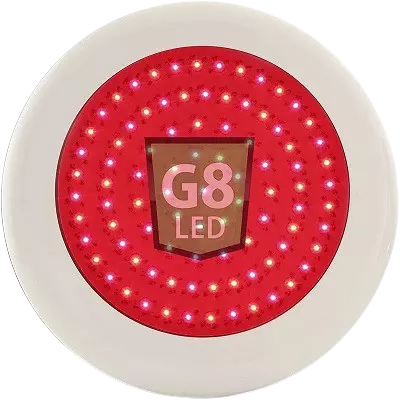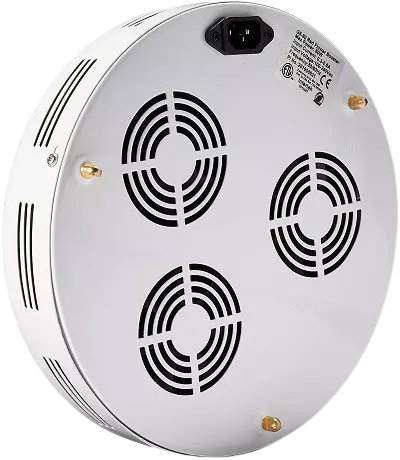 Also Read, "Top 10 LED Grow Light for Hydroponics (2021)"
3- SANSI LED Grow Lights for Indoor Plants
SANSI LED indoor grow light is one of the highest-rated (4.7/5 on 646 reviews) grow lights on Amazon and the reviews are positive too. This one is a cheap grow light and does wonderful work at that price. 
Coming to the technical specifications, SANSI grow light has 15 W LED chips that support full-spectrum light (400-780nm). This gives it the power to be used as a grow light for seeding, growing, blooming, and fruiting hydroponic plants in an indoor setup comfortably.
With a high heat dissipation design and a lifespan of about 25000 hours, this LED grow light is suitable for almost all types of hydroponic plants that can be grown indoors. As per the manufacturer, the PPF rating for this light is 26.1 umol/s and PPFD is 152.83 umol/s/m2 which means that this is a high-intensity light.   
The reinforced insulations make it shockproof while there is no IP rating for this bulb. A 5-year manufacturer warranty and energy consumption of just 0.1 USD/kWh if used for 12-14 hours per day makes this indoor grow light extremely affordable and top class. 
In conclusion, this indoor grow light is a perfect match for beginners who are starting with indoor hydroponics and want to experiment with different types of plants as this light is compatible with almost any plant that can be grown hydroponically.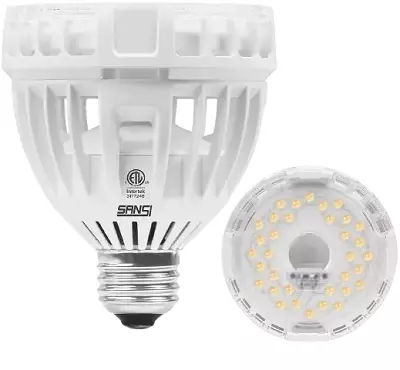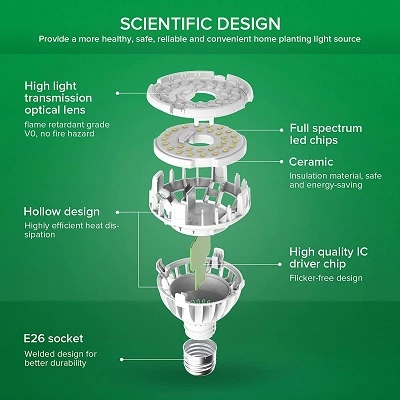 Also, Read "DIY 5-Gallon Bucket Hydroponic System on a Budget"
Indoor grow lights at Walmart
These LED grow lights are available at Walmart online store and Amazon store as well.
1- Spider Farmer 1000D LED Grow Light Full Spectrum
Spider farmer is a famous brand for LED grow lights. This is a super affordable grow light for indoor hydroponic gardening. With a PAR efficiency of 2.6 umol/J, this light has a full spectrum that can power your hydroponic plant in both veg and bloom stages. 
The power output on this one is 101 Watts and the area it covers is approximately 3 inches wide and 3 inches in length. As it is an indoor grow light there is no support for cooling fans and hence is very quiet and stable. 
Spider farmer is known for its quality and this point is proven by the fact that they have used Samsung LED diodes on the grow light. 
As per their claim, you can get a maximum yield of 2.5 g/W, although it is seen that the average yield you get is around 1.8-2 g/W. You can use this light in the flowering stage but the intense light that is needed for that stage is only projected at an area of 2 x 2 ft.  
The light comes with a 5-year warranty. The only two drawbacks that I can see is there is no cooling fan as it may get too hot sometimes and secondly there is no timer for automated lighting.  
All in all, Spider Farmer 1000D LED grow light is a cheap and affordable grow light for indoor usage. If you are someone who likes to grow indoor hydroponics throughout the year, then this light is for you.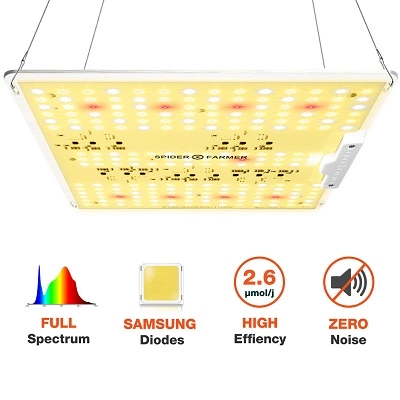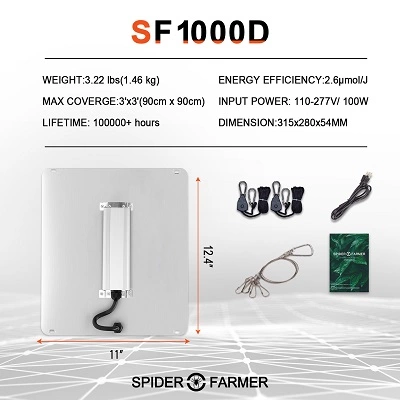 2- EZORKAS LED Grow Lights for Indoor Plants
This is an extremely cheap indoor LED grow light. If you are a beginner and not sure if you want to continue your hobby of hydroponics, then you can get this light for experimenting.
Talking about the features, this grow light is actually like a lamp. The two arms of the light are made up of 80 LED diodes. Although the power output and PAR efficiency are not considered in this light, other extra features it gives can be one of the reasons to buy this. 
This indoor LED grow light has 3 colour modes (red, blue, mixed) and an integrated dimmer which gives 9 dimming options. In addition to this, you also get timers with 3h, 9h, and 12h auto turn on/off options. 
The manufacturer also claims to give a full spectrum light but I am a little doubtful about that. This light can be used for greens like growing hydroponic lettuce or spinach but not with basil or tomatoes which require more intense light. 
This indoor LED grow light is best for people who are looking for the cheapest grow light on Walmart.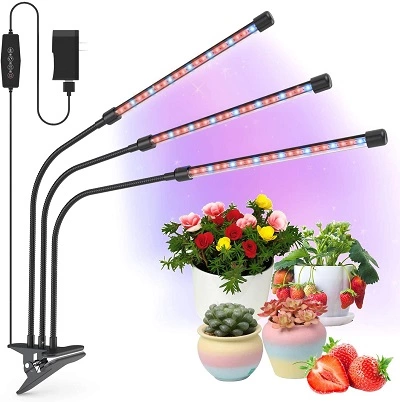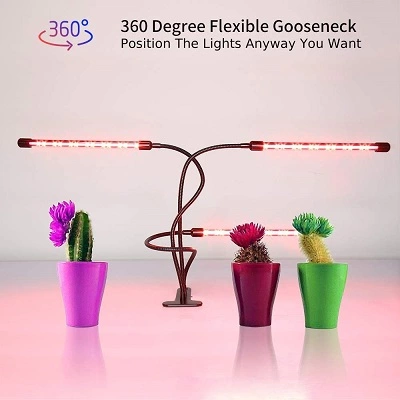 3- VIVOSUN Latest VS1000 LED Grow Light with Samsung LM301H Diodes
One of the best sellers on Walmart store, VIVOSUN is a well-known brand in gardening equipment and this new LED grow light from VIVOSUN fits perfect for indoor hydroponic plants. The 100 Watt LED provides a full spectrum lighting, good for vegetative stages of greens like lettuce, spinach, and basil. The tri-head structure gives it a unique look and can also be useful in covering a larger area. 
If we look at the features, the VIVOSUN grow light is made up of anodised aluminium. The frame has a dimension of 11.8" x 11.8".
The Samsung LM301H diodes give it an effective and efficient output of 2.75 umol/J. The ballast is attached with a dimming knob through which the LEDs can adapt to 4 dimming options i.e. 25%, 50%, 75%, and 100%.
According to the manufacturer data, when placed at 12 inches from the plant, the average PPFD is 1081 umol/m2/s. The package comes with a 6ft cable, a pair of rope hangers and LED Grow Room Glasses as well. To top it off, they also provide a 3-year after-sales service.
In conclusion, I will only say that this is the best indoor grow light for a cheap price. If you want something for a more rough and longer usage then I would recommend this.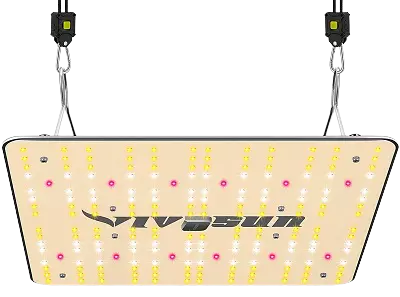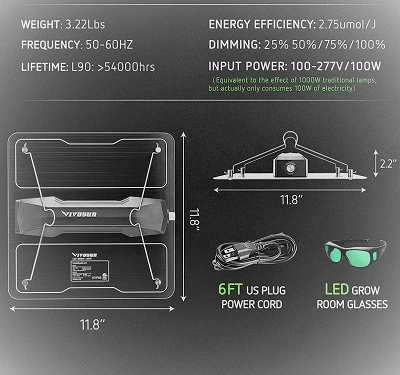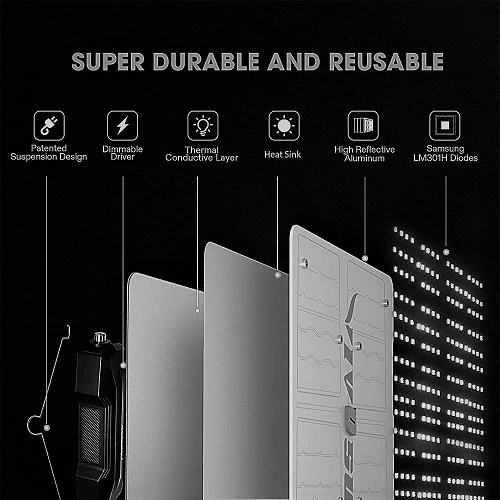 Also Read, "How to Grow Hydroponic Lettuce at home"
4-Mars Hydro TS 600W LED Indoor Grow Light Full Spectrum
Mars Hydro is one of the best manufacturers when it comes to LED grow lights. The TS-600W is no different. Be it the build quality or the performance, this led grow light is a perfect choice for homegrown hydroponic plants, especially in indoor settings. 
Talking about the coverage area of the light frame, you can expect an intense light over the area of 1.5ft x 1.5ft and a total coverage area of 2ft x 2ft. Mars Hydro TS 600W facilitates a full spectrum LED grow light solution that can be used for vegetative or flowering stages. The max yield per gram is approximately 2.2 g per watt. 
The LED diodes are fixed in a reflector frame which also works as a heat dissipator maintaining the temperature around the hydroponics. As there is no external heat fan, the light remains silent and is suitable for indoor usage. 
The Mars Hydro TS 600W can easily replace a 150-watt HPS/MH bulb and also consumes 70% less power. All in all, this LED grow light is an excellent choice for home growers who want to get quality LED light that is sturdy and effective at the same time.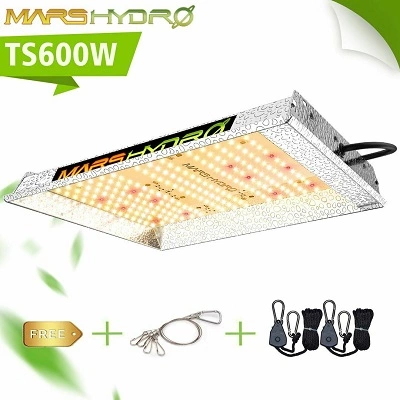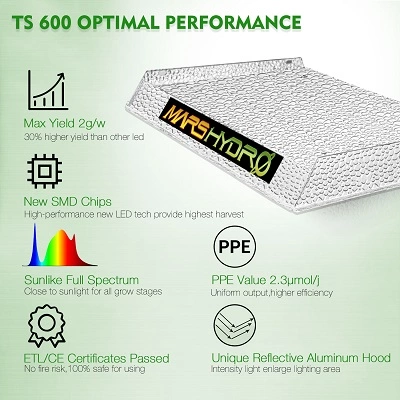 5- GE Grow Light 32-Watt PAR38 LED Light Bulb
GE Grow Light 32-Watt PAR 38 LED light bulb is a great choice for people who have just one or two hydroponic indoor plants. As this is a bulb the coverage area is relatively lower than Mars Hydro TS 600W. 
The bulb consumes 32 Watts of power and is good enough for both low light and high light requiring plants. It gives a full spectrum light with a cool white colour. There are no dimming options included within the bulb. To adjust the brightness you will have to adjust the height of the light from the plant. 
The PPF value of a single GE LED grow light bulb is around 50 umoles/seconds. For multiple plants, you may require multiple bulbs. GE promises a long life of 25,000 light hours for this led grow bulb. 
Even the customer reviews of this bulb are positive and support the fact that this bulb can easily handle hydroponics plants in seeding, flowering, or vegetative stages.
For high light plants (tomato, cucumber, peppers)
For uniform coverage, you have to place these bulbs at least 16 inches apart from each other and keep at a distance of 18 inches above the plants and use them for 18 hours a day. 
For low light plants (leafy greens, herbs)
You can place the bulb 24 inches above the plant and keep it on for 18 hours a day. In case you require more lamps, place them at least 22 inches apart from each other for uniform coverage.